In Januari 2007 we took a flight with Emirates to Malé, the capitol city of the Maldives. A group of almost 1190 islands spread over 26 Atolls, ringlike coral formations enclosing a lagoon. From these 1190 islands, only 200 are occupied by people. The island group stretches from North to South over a distance of about 820 Km and from East to West 130 Km. The capital Malé, the seat of government and the centre of trade, commerce, business, health and education, is located in the middle of the atoll chain, a small island buzzing with the sounds and activities of about 75.000 people which is about one third of the population.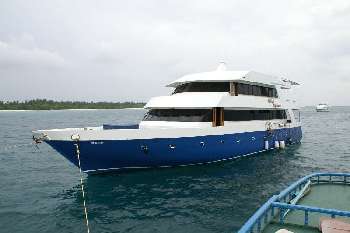 During the periode that we were in this beautiful country, we were guest on the "Baani Explorer". Instead of sleeping in a hotel or in one of the 87 different luxurious resorts we stayed on board this ship for 7 days and nights from where they drove us to our divingsites. Due to this "Live aboard" experience, we were able to visit several different diving spots. It is the way to go if you are here for diving. But if booking directly is a good option, I believe so, the prices on the site is much more then we paid for the trip.
The crew took good care of us, the food was good, the cabin was good enough, allthough better matrasses would be a wise investment, the ones they had were very bad, so it felt like sleeping on wood. Luckely the matrasses from the beds on the sundeck helpoed a little.
Usually the day looked like, getting up early in the morning, between 06.00 and 06.30, then dive, breakfast, rest for 2 - 3 hours, dive, lunch. Again rest for 2 - 3 hours, then the third dive, and after it dinner, and relax, talk with the other divers, sharing your big adventures with them or play a game, or maybe toss out your rod and try to catch a fish.
What to expect, or better, what we have seen after 1 week of diving (16 dives). You can say we where a bit disappointed because of the visibility. If it was because of the time of the year, or the currents, we don't know, but on some dives it was less then 10 meters, and on most dives just between 10 and max. 20 meters. Which was not as we had hoped for. Further, buy your self a good currenthook. You need it. During some dives the current was so strong that you had to hold on to the reef, which, in some occasions, could lead to problems with the little inhabitants of the reef, that did not agree with your fingers holding on to their house and tried to bite you. But then from out nothing... a manta comes, greets you with is wings, and all is forgotten. Enjoy many safe dives my friends.